Fun design in a serious home? Can it be done? Yes.
If your looking for a bit of attitude to spruce up the boring household design then look no further than hanging pod chairs. Like hammocks and hammock chairs they are great for relaxation, both mentally and physically during stressful days. These pod chairs can be used for a variety of different purposes, for the obvious chilling, for meditation and reading to name a few.
While these were hugely popular in the 60s and 70s, hanging pod chairs are making a comeback. With a thousand designs, there will definitely be a hanging pod chair to fit your style.
So follow along as we guide you through our best picks and the best reasons to get a hanging pod chair.
What to Consider Before Buying
Style: Everyone's style is different. This is seen especially within the home. While there are plenty of designs of hanging pod chairs, make sure you choose the one that fits you.
Size: Always check the size of the chair first. Some hanging pod chairs are made specifically for children. This is also useful when determining how much space the chair will take up. If you think you might not have room for it, double check.
Weight: Most hanging chairs come with a weight limit. Make sure to buy the chair that fits you. Your ceiling will thank you later.
Price: Hanging pod chairs can be quite expensive. If you're on a budget consider getting a basic chair and DIYing the rest. Hanging pod chairs are a great accessory to the home and come with many upsides, but make sure you're not breaking your wallet or home.
Traditional chairs can be painful over time or simply lose their appeal as styles change. The hanging pod chair never goes out of style. It is the perfect additive to any home. Their egg-shaped design can fit in anywhere and they take little space.
Hanging pod chairs are also made from many different materials. The most common, and most loved of course is beige or brown wicker hanging pod chairs, but in today's modern society, there are also metallic, and see-through chairs. These pod chairs are a quirky, yet stylish piece to take home. That being said, here are our top five picks in hanging pod chairs.
Top Pick: Christopher Knight Home Hanging Egg Chair
By far, this is the best one yet. While initially made for the outdoors don't be afraid to put this stylized piece inside the home.
The Hanging Egg Chair is formed into a teardrop shape and made from a durable black or brown wicker, keeping up with tradition. It can also handle heavier weights and is extremely cheap as these chairs go.
The Hanging Egg Chair fits the home within and out.
Pros
Pros
Good for both indoors and outdoors
Can handle bigger weight
Comes with a base & cushion
High quality
Cons
Cons
Little bit pricey
Comes in two packages
While the price of the Hanging Egg Chair is still high for those of us on a regular budget, it's worth the little extra dough.
Runner-Up: Boho-Chic-Style Hanging Egg Chair by Island Bay
Our number two pick for a hanging pod chair is this lovely one by Island bay. This water resistant thing of beauty is a stylish egg chair you can use both outdoors and indoors.
The maximum capacity goes above 300 pounds so that means that it's built on quite a stable framework.
This one is a comfy seat for anyone wishing to simply relax after a long and tedious day. Whether you wish to meditate or to read, to sip on green tea or watch the clouds float by, this is a great pick.
Pros
Pros
Comes with cushions
Can carry up to 325 pounds
Works both indoors and outdoors
Water resistant
Stylish
Comfy (obviously)
Cons
Cons
For Minimalists: Fine Mod Imports Hanging Bubble Chair
This hanging pod chair was definitely designed for the modern home, coming in metallic colors, and transparent acrylic.
However, this chair is rather large and takes up more space than other hanging pod chairs.
It's a piece to talk about, that embraces the 21st century while holding on to the history of relaxation. For any person with a sleek, modern style with a whimsical twist, the Hanging Bubble Chair is for you.
Pros
Pros
Modern look
Comfy
Durable
Supports most people
Cons
Cons
The Hanging Bubble Chair is new, sturdy, and welcoming to us who are embracing the modern world of today.
Best for Outdoors: Harmonia Living Nimbus Patio Hanging Chair
Once again, this piece was originally designed for the outdoors. What this means to any sensible homeowner looking for a great styling piece is that it is durable. This chair will last.
The Patio Hanging Chair is designed in a coffee bean shape, with the matching color of deep brown wicker.
However, it does come with some drawbacks. For one, the price. This piece is more expensive than others. It also can't handle as much weight as other hanging pod chairs, coming into holding about 220 pounds.
Don't let all of this discourage you though. It could be the perfect fit for your home.
Pros
Pros
Less size
Durable
Comes with cushions
May come with a stand
Comfy
Cons
Cons
Price
Less strength
Only comes in one color
The Patio Hanging Chair could just become your next favorite spot to sit and relax outside the home or even inside too.
Best Design: CB2 Mod Pod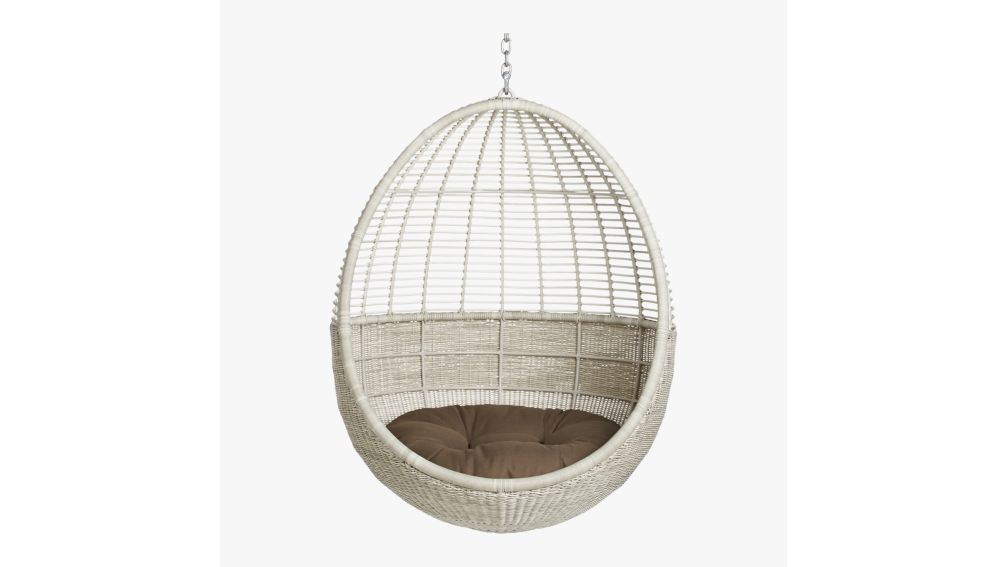 The design of the Mod Pod is simple, faux wicker basket on an aluminium frame. The Mod Pod is made from one hundred percent recyclable resin and is sturdy for outside use. It's eco-friendly and with its basic design, is great for any home.
However, something to keep in mind first are reviews. The Mod Pod has many good reviews, including some that talk about height, saying, "It is comfortable for even a 6'3" man."
Clearly, the Mod Pod was built well and is sufficient for those who got lucky in the height department.
Pros
Pros
Basic design
Comfortable
Eco-friendly
Made for everyone
Cons
Cons
Long wait for shipping
Doesn't come with cushions and pillows
While the price of the Mod Pod can be scary, and it doesn't initially come with the extras, it is still worth the money and the time to add this beautiful classic touch to your home.
The Benefits
These chairs have many benefits, besides just be a comfy place to cuddle up with a good book. Hanging pod chairs come with many healing benefits as well.
Back & Neck Pain: A hanging pod chair can help with aching backs and neck pain. When we can reduce the number of pressure points in our bodies, we relax easier.
Sleep Better: The light swinging motion of the chairs has been proven to help with sleep. The motion reminds the body of when it was a baby, being gently rocked back and forth, sometimes inducing sleep.
Concentration: When swinging in the chair, the cerebral cortex becomes activated, increasing our concentration and focus. Some therapists recommend this chair, because of that reason.
Floor Space: Hanging pod chairs little to none floor space, it all depends whether you want yours to hang from the ceiling or from a pre-built stand. If you're low on room space, hanging your pod chair from the ceiling is a good alternative.
Rewind
Overall, hanging pod chairs come with many benefits, and also some drawbacks, one being the price. If you haven't found the right one here, keep searching. There are hundreds online.
These chairs are also possible to DIY, making them a fun crafting piece.
Mostly, the hanging pod chair was made for relaxation, so find a chair that will comfort you to the fullest and relieve the wear and tear of the day, and in turn help you figure out what to do next on your grand adventure through life!
Our main goal is to share insights and knowledge that help infuse your life with joy and relaxation. In other words, TrueRelaxations is a digital magazine dedicated to your supreme wellbeing.